The Magnified Lagos Traffic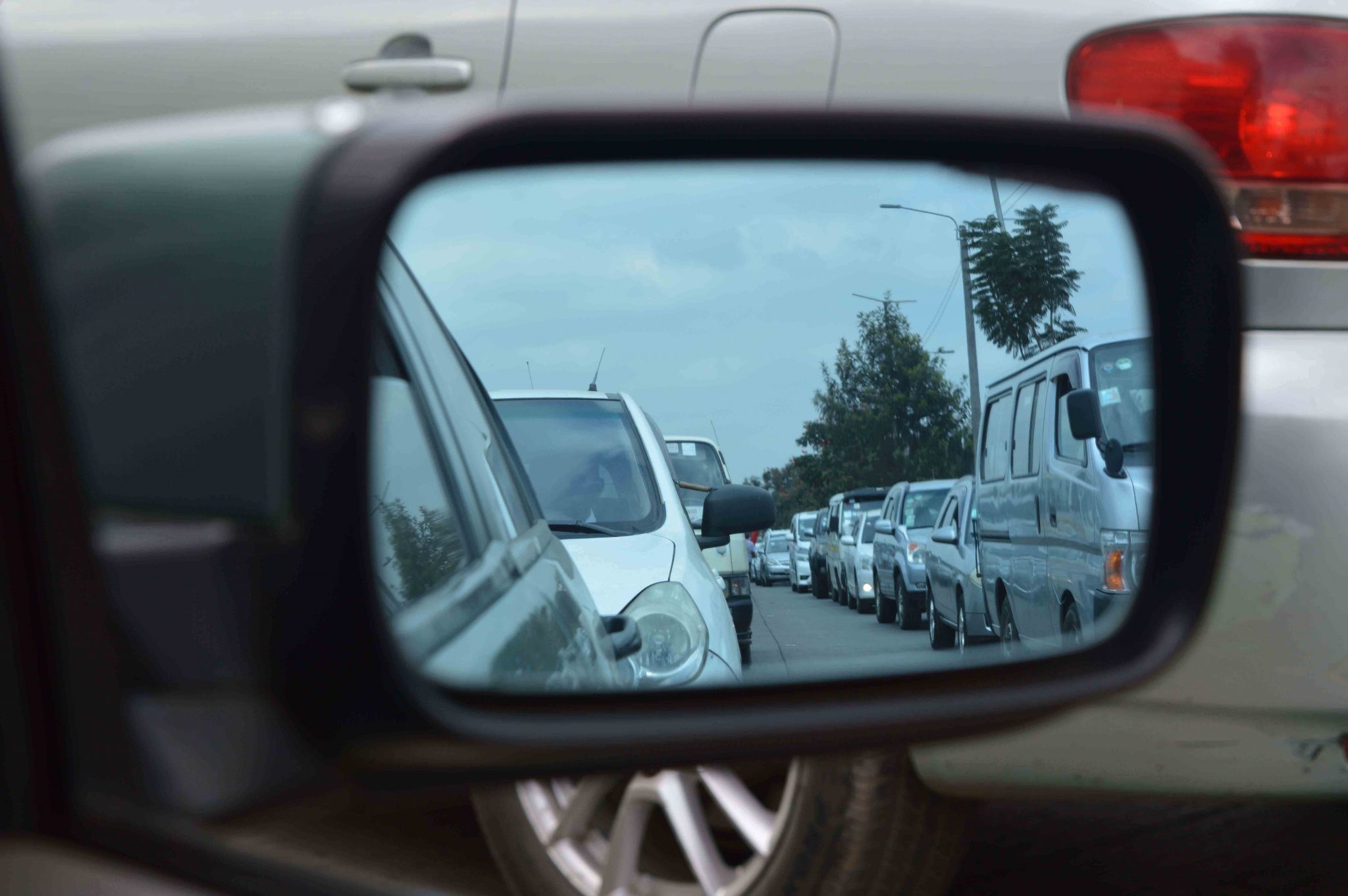 Lagos traffic could be quite exhausting. Hold on, did I just use the word "quite"? I actually meant "a great deal". It is very, enormously, tremendously exhausting. In fact, there is no word in the dictionary that could exemplify the gravity of the Lagos traffic. All the words are occupied for humble situations. Sometimes, I believe the traffic is human, and has devised a way of sapping all the energy you got left for the next day. It's just too crazy.
The other day, it was vast flooding. Island folks can relate to this. The flooding kindly elevated the traffic and I spent a substantial amount of seven hours from Chevron to Isheri. It was so bad that people practically walked and covered a very long distance because they were no buses, the road was tight, one-way was life, and traffic light was useless at this point.
It was actually the first time I would experience such disgusting and magnified traffic on the Island. On top the fact that I felt sick, the bus was super tight and quite stuffy. Not to be all negative and pitiful here, there were some witty and crazy people in the bus too. Right next to me was a middle-aged man who talked too much and I was very close to screaming "shut the hell up!" at some point.
Other categories included "the braggers", the "I too know" category, and of course, the "silent talkative". Actually, that was just me, but I'm here now, writing a thousand words. Nobody was on my league, they all had something to say. Although, it was annoying because I couldn't wait to get curled up in my sweet bed, it was still kinda fun.
On the other hand, the 21st of July was a tough one. It was the pre-Local Government Election Day. I had to report to my folks for the weekend. I hit the road at about 6:45pm. The plan was to get home by 9pm but God had other plans. The island was quite free so I suspected absolutely nothing. My nightmare started at Osbourne Estate, Ikoyi. It was as if the witches in my village were on the same bus with me.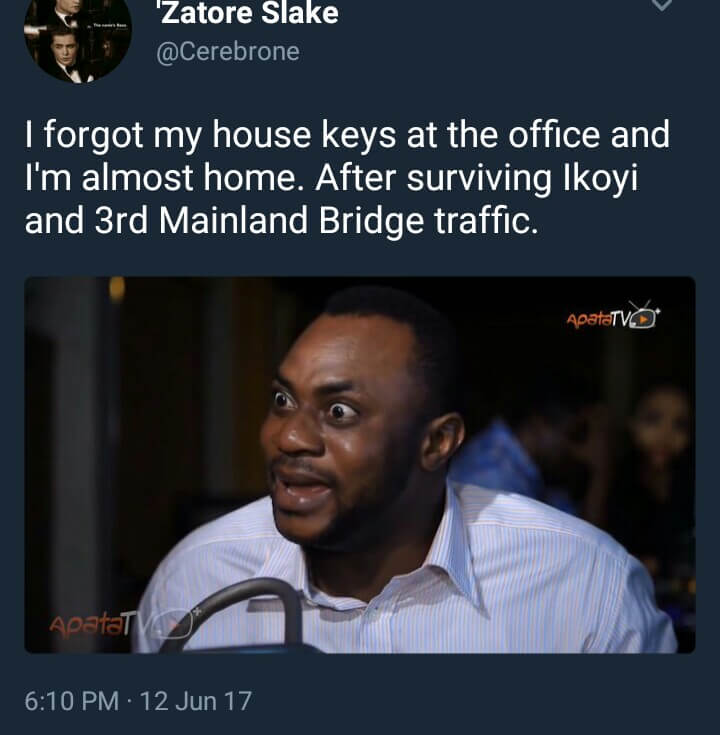 We kept pushing slowly and to believe I actually thought the Third Mainland Bridge would be free; yet again, God had other plans. He had a bag full of surprises waiting to be exploded right in my face on this day. Straight from the beginning of the bridge up till the very end, my butt ached. It felt like I was driving through the tunnel that leads to the land of perfect men. Sincerely, it took forever, the scenario wasn't funny at all. I kept wishing superman could just whisk me out through the window and fling me on my bed. It's safe to say the Lagos traffic was on a wavy level.
I arrived at Oshodi by 10:30pm, it felt like I was the lead cast in The Conjuring. The Lagos traffic just tie wrapper! Calling Uber at this time would have been fruitless. Firstly, you wouldn't get a response because there was no way one would get to you in three hours and secondly, it would cost you tatty billion *in Davido's voice*. So just walk! See it as nature's way of pitching exercise to you.
Subsequently, it was 10:30pm but it felt like 3pm but the sun was eclipsed. The market was wide open, it was business as usual. None of the traders looked like they were ready to go home anytime soon. It was like Christmas Eve came five months earlier. I had to double check the time. It was exactly 11pm and I was still at Oshodi. No buses! Mad traffic! Disturbing crowd! I'll leave you to fill in whatever image you have in your head.
I had to start walking just like everyone else. The posh side of me was cat walking at first not until I realized the gravity of the whole situation, then the rugged part of me began to exhibit itself. Finally, I got a bus to Ikeja Along after 45 minutes of crying inside. This wasn't even half way but at least, I left a spot. Right from Oshodi to Ikeja Along, the bus used up an hour and I even had to alight at the bus stop before to walk the rest. People were walking, nobody waited because it was pointless to wait.
Sincerely, I can boast that my getting a bus was by divine intervention.  You won't believe it was the normal price, they didn't try to exploit as usual. That's why I said it's by divine intervention.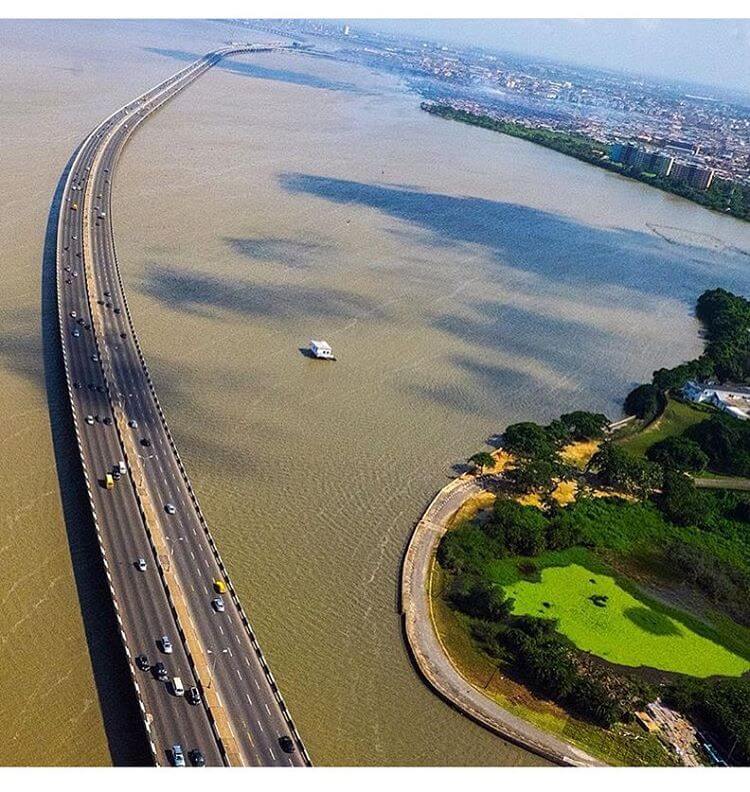 Another 40 minutes swung by before I got another bus but this time, for double price. There were lots of crazy guys scanning the road due to the situation, looking for who to devour. Kept hearing stuff like "let's go to my house, I'm travelling tonight so you can have the house to yourself". Who leaves his house to a total stranger on a day like this? I couldn't blame them though, the spirit behind the Lagos traffic was probably messing with them.
The major roads were still be filled by 4am, I could bet my kidney on this. No kidding fam! We spent 20 minutes still around Ikeja. One-way became regular business and LASTMA was nowhere to be found. Everywhere was still extremely crowded.
I sat close to the driver and just couldn't let this beautiful but yet, horrendous moment slide. My jotter lives with me for a reason. So, I started to write. I got half way home and superman finally came in form of my dad. While I was on my way, he called about 52,000 times and his wife called at approximately 82,682 times. Was quite little though, compared to some other periods. I finally landed on my bed by 1am with the same feeling i get after doing a wild laundry, like i had fulfilled my purpose in life. Although it was a crazy experience because I felt I wouldn't reach home that night, imagine all the things that would have happened. It was a moment to remember.
If you have any Lagos traffic experience and wouldn't mind sharing, do send it to info@aggital.com. We would be waiting to read and share. So, make sure you relish your freaky side today and bask in the glory of TGIF!
CHEERS!!!