When You Swallow Your Pride, You Don't Choke On Ego!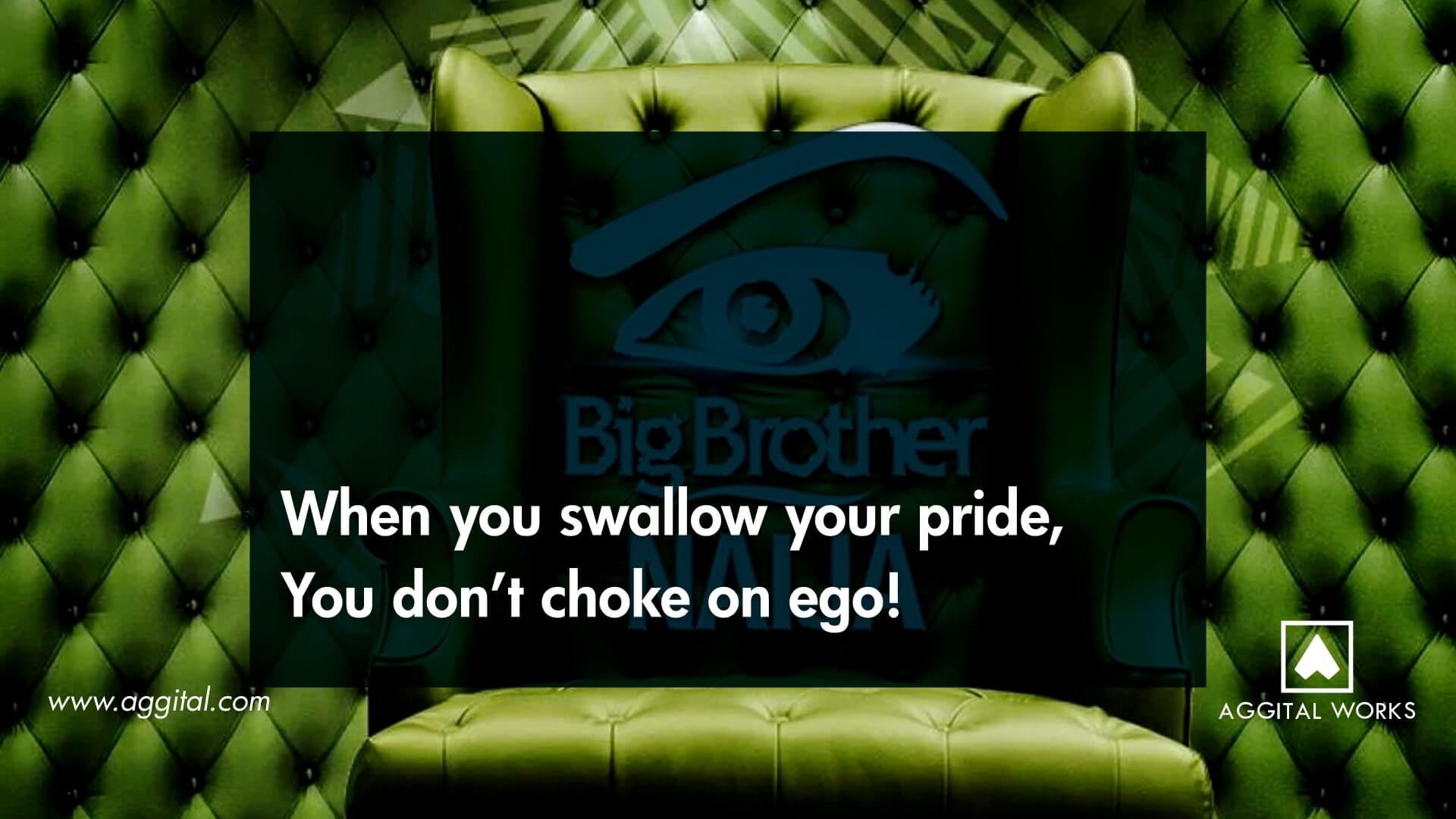 Just in case you don't keep up with the popular reality TV show, Big Brother Naija, this post was inspired by the program. If you're not a fan, I totally understand how you'd feel about this blog post –  I once didn't like the show just like I don't like Game of Thrones (I'm still not a fan though), but I warmed up to it during the last season.
Again, if you're not a fan, you've probably heard about one Cee C, a female housemate whose pride is scaling heights. I'm guessing you like her because you think she's Weird and unique – Yen Yen Yen! Guess what? She's not! The only thing she is right now is Unhappy!
No doubt, Cee C is a smart chic, but her pride game has been overplayed and she just made it worse last week. If you missed it, I'd be honoured to brief you!
We all know (or most of us) what played out between Cee C and her first love (My namesake), Tobi, she practically turned him into a puppet and for some funny reasons, he played along. The Big Brother nation was bewildered by his ludicrous attitude and the Yoruba Demons Association (YDA) frowned at his actions too.
As always, she overdid herself and Tobi broke out of the jinx!
Fast forward to after he "partly" got over her (I still believe he likes her, but we shouldn't always stick with what we like anyway), he started rolling with Alex, who's actually Cee C's enemy.
Yesterday, Nina made up with the Love of her life even after claiming that she hated him. Nina wanted to form hard girl like Cee C, but her heart is just too soft, she eventually reconciled with Miracle with the help of Alex.
I'm not a fan of Nina (she's kinda dumb) but she swallowed all that nonsense talk with Tobi, cried and still agreed to speak with Miracle. She didn't hide her emotions and unlike Cee C, she didn't sacrifice her unhappiness for an illusive sense of pride.
Who's a huge fan of the winning side? Khloe! Cee c and Khloe have something in common, they both hate Alex and they bonded based on that common enemy. But, Khloe couldn't deal with that isolation, so she left Cee-c in her peppered world. Nina tried that circle for a few days, she didn't survive it too and now she's happy.
Speaking with Lolu, Cee c mentioned Alex asking her to let them break the wall between them and Cee c replied, "This wall is here to stay!"
Alex doesn't like Cee-c, but she was willing to swallow her pride and reconcile but NO, the almighty lady is just too tough skinned to make peace.
The reason is simple; Alex is the Head of House and if Cee-c concedes to the peace talks, she'd feel defeated, she'd rather keep the wall than appear weak (even though Alex took the first step towards a peace talk). If the tables were turned and Cee-c was the HOH, she'd definitely feel triumphant if Alex apologizes. This is a fact!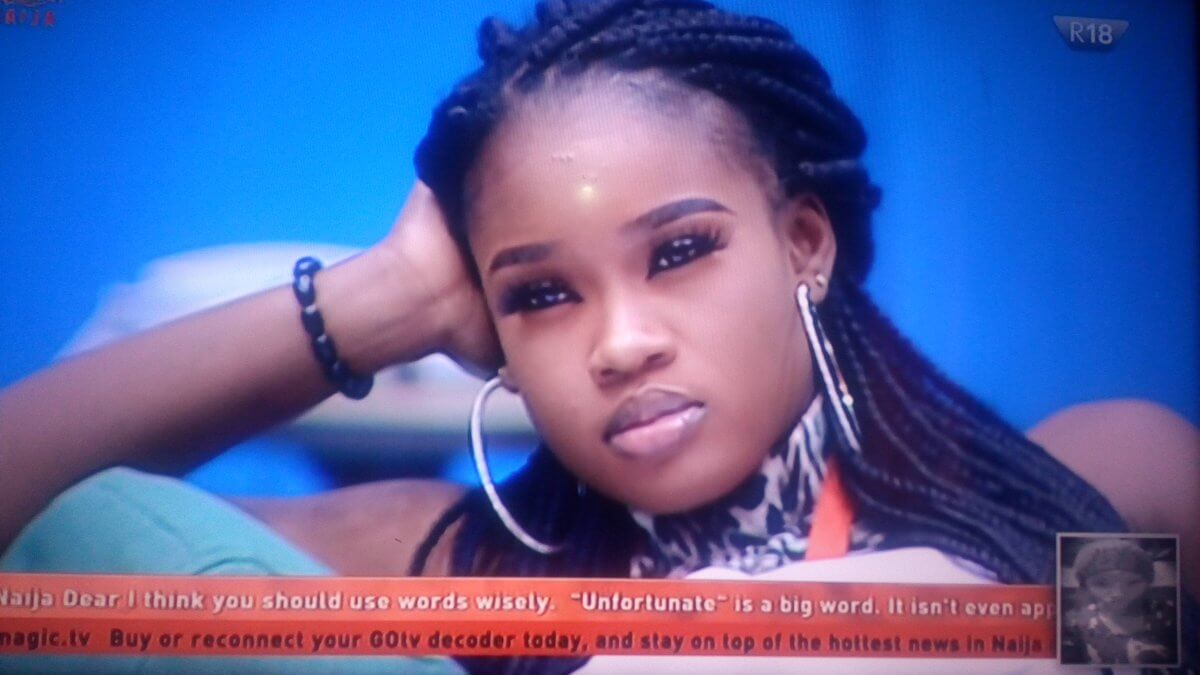 That same week, Big Brother spoke with each housemate and I love the fact that they were all honest about the relationship hassle.
On the other hand, Cee-c tried to prove tough as always, she completely ignored the fact that she was dying inside even though it was obvious. She talked about every other HM issues but didn't mention the cold war between herself and Tobi.
Big Brother noticed and asked why she was "suspiciously taking herself out of the equation", as usual, she denied again.
After all said and done, she started walking about in a sexy nighty, acting all victorious but we know the trick. She was trying too hard to appear happy, she had no idea it was too fake!
As human beings (especially women), it's important we have a strong sense of self, when we fail to have a stand, we risk being vulnerable to someone else defining who we are. But hey! When one's "sense of self" becomes too great, the ego swells and we become victims of pride.
Just like design, life is about balance; we need to strike a balance between confidence and humility. Sometimes, its quite tough to accept our fault, but in the end, it's totally worth it and for the last time, it doesn't make you weak!
I sometimes find myself wearing this shoe, but I always feel happy when I do the needful, it sets me free!
I thought this was the dumbest thing until a few days back, where she practically screamed at Tobi for hours, calling him a "waste" and a "fuck boy".
My grandma has been with us for three weeks, she doesn't speak or understand English in any way, but she could feel the pride oozing out of the TV. She's been watching for a while, and while Cee-c was ranting, she got really mad and said "igberaga omo yii ti poju" – "this lady is too proud".
Anyways, her irritating attitude brought her a strike and got people talking. She was also dethroned immediately and her expression was priceless, I wonder why she was surprised. I'm glad Biggie made her watch herself and she eventually "cried" and "apologized"- two big words acts she's always running from.
I see this as a first step to her getting better.
In the end, it's just a game, but it's a game we can all learn from. Who can you share all your achievements and happiness with if you've isolated yourself from the people around you? Let's be better, we actually won't choke on ego.
Enjoy the weekend!