Finders Keepers – Losers Weepers.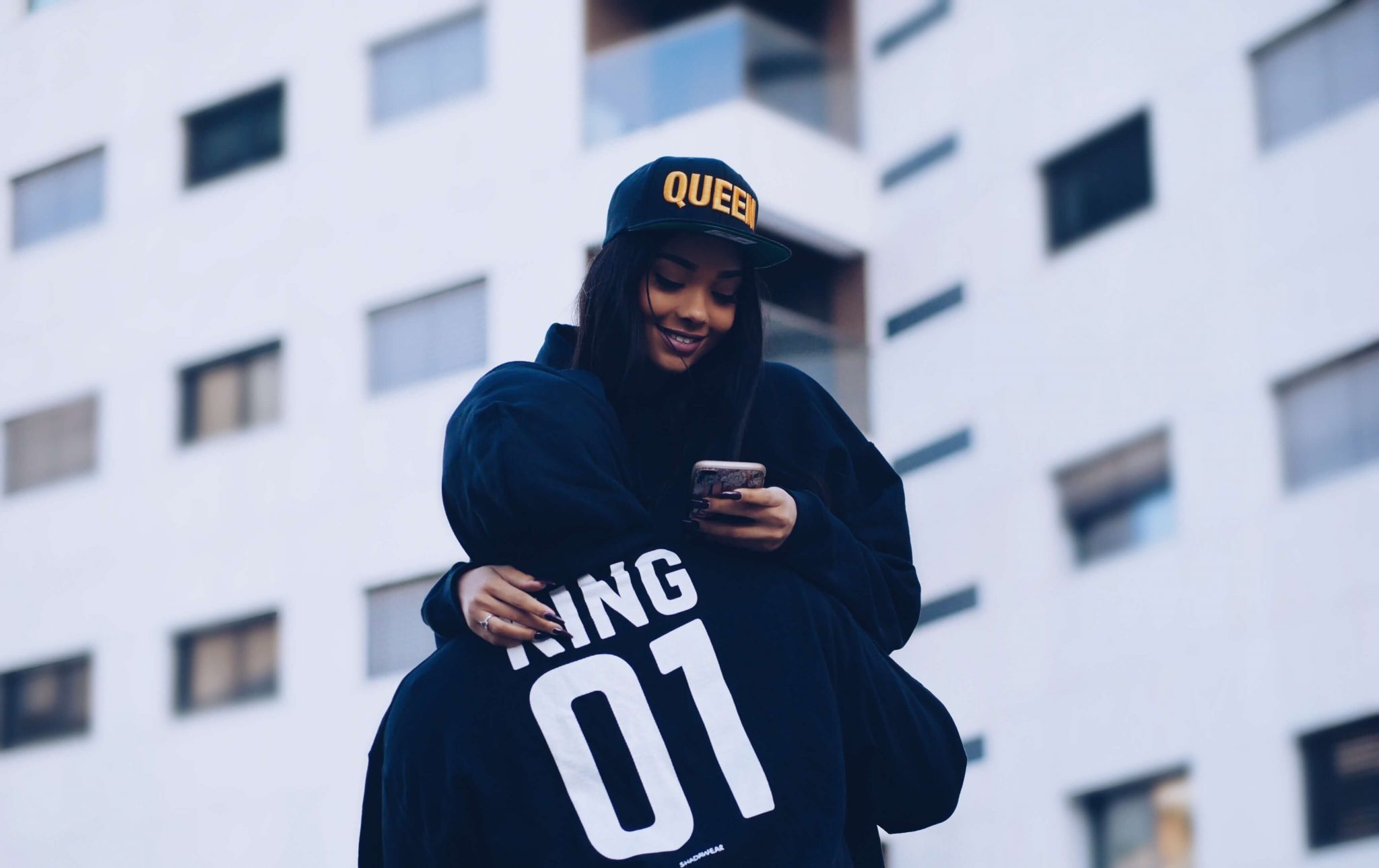 "Hey beautiful, would you like to kneel for me instead?"
That was the first thing he said when he slid in my DM, and as a typical Nigerian baby girl, the first thing I did was peruse his page.
To be honest, I was more interested in the pictures.
I'm not so sure how these things work outside Nigeria, but once a guy slides in your DM, you have to look through his profile and find out if he's worthy of your attention.
I know, bios on social media platforms aren't very accurate, but at least, it's a first step to knowing what you're up against.
Here's what prompted the Direct Message;
A random babe who probably thought the world revolved around her, posted stuff about not kneeling for her Husband on the usual Yoruba traditional wedding.
I'm not about to dwell on her narrow perception, I'd rather tell you how I met the love of my life through her trending post.
Let me just say, her decision didn't sink right in my head and I just had to say something.
I was neither petty nor savage, I simply expressed how much I'd love to kneel for my husband (during the traditional wedding) a million times if he wanted me to.
You know how they say someone's always watching? Well, I was in luck that day and it was one fine man, his name was Ricky.
Along with other fine men who weren't ready for the average "toasting stress" (or weren't just interested), he dropped the love emoji under my comment and followed me after.
"Lol", I replied, "As long as you're my baby, I'd do more than kneeling for you".
P.S: I didn't reply his message until I looked through his page and was sure I could spare some time for his chat.
Before I knew what was happening, we were in a conversation for five hours, replying each other within seconds.
You can "Hard girl Hard girl, but you dey chat with man for five hours" me all you like, but my heart wants what it wants and it was getting it!
Ricky was a night owl and was in luck, I'm also a big fan of late night chats and video calls. We chatted all day and made video calls every night, back to back.
He was close to perfect and I was particularly surprised I found someone that fits right into my puzzle. My picture of a perfect guy isn't so difficult, but it just feels so hard to find someone I could completely blend into.
"I'm not sure finding a wife off Instagram is quite possible, neither am I sure about your feelings for me", this was exactly three months after he popped in my DM…..
"If I were told to describe what we have based on your actions, I'd say you're in love with me already, but hey, this might just be how you treat everyone in the friend-zone".
Even when you're not particularly sure about how a guy feels for you, you're still willing to listen to the sweet words.
At this point, my heart was screaming with joy but I wanted to save the victory dance for later, didn't want to sell myself short.
As usual, it was a video call and my unromantic self had to say something after his five-minute love speech.
"Well! Well! Well!" My voice was stern and petty too, "Nigger, are you saying you love me or are you saying you'd love to be friend-zoned?"
He was equally savage, "I'm saying I'd get over there this minute and stick my finger in your nostrils until you tell me you love me and will say yes if I asked you to marry me!"
Apparently, I wasn't the only crazy person. Ricky was a polished Warri boy, so he knew how to out-crazy my crazy.
There was no point in holding back, I really liked him so I agreed to date him as soon as we meet.
Don't give me that look! Three months is a long time to not set up a date but in our defense, we wanted to take our time plus we're both weird people.
We fixed a date almost immediately and I started to think of getting a nice Bodycon dress to fit the Nike sneakers he got me a month before.
My sister in-law was on top of that, she also gave me a Beachkin Jelly Bag to go with.
The day came and I was ready!
It felt like I was going for an interview, one that would get me my dream job.
It was a mixed feeling of nervousness and excitement and so many questions sprung up.
"What if he doesn't like me?" "What if I start acting sexy and my navel was popping out of my Bodycon dress without my knowledge?" "What if he's shor…?"
 I froze!
I cannot date or marry a short man, it's a law in my dating life, a constitution that cannot be altered for the world's richest man.
All the same, I was optimistic and couldn't wait to meet my Warri munchkin.
The Uber dropped me right in front of the Lekki Mall and I walked into a restaurant beside it.
I always love to sit close to the walls in any restaurant, but all the sits were taken, so I had to make do with a table in the center.
Right after getting sitted, my eyes got stuck with this hot sizzling dark hottie, who was on a date with a slightly chubby lady. He was wearing a grey polo shirt and had the most seductive eyes I have ever seen!
I know right, I was about to be "taken" so there was no point staring at someone else's date.
Against my moral standards, I continued staring at him and you really can't judge me. After all, he started it and he was too cute to ignore.
The staring challenge continued for about three minutes and I snapped out of it when my phone rang, Ricky was outside the restaurant.
"Hey baby, I'm right behind you". I couldn't see him but the seat in my favorite spot was vacant, so I took my bag and gently cat-walked to my new space, which was adjacent to the dark hottie.
By then, we couldn't keep up with the face-off without his date noticing, so I had to get busy with my phone.
I felt a soft peck on my right cheek, "Why did you change your table baby?"
The first thing I noticed was my dark hottie staring at Ricky, and I was wondering why. Then I looked up, OMG!
Ricky was short!
Ricky was so short and I, on the other hand, was short of words. I didn't want to ruin the beautiful moments we shared for three months, so I decided to look on the brighter side, he was a smart guy.
Truth be told, his smartness didn't cut it for me and the conversation suddenly began to dwindle. I was losing interest and I think he noticed.
After a short while of a one-sided conversation, he excused himself to use the restroom.
Coincidentally, my new found hottie and his date got up to leave at the same time.
He gave me one last smile but I didn't return it, I was mad at how self-conscious I am about short men.
At the same time, my heart bid him goodbye but just as I was about deleting his cute body from my memory, he rushed back inside the restaurant, "I know this is wrong and probably the dumbest move we'd both ever make, but I'd love to tell my kids about how I met their mother while she was on a date".
I was ridiculously happy and wasn't sure whether my morals would win this one. Ricky wasn't going to spend eternity in the bathroom, so I had to be fast with my decision.
"How about your date?" I asked as I grabbed his phone to punch in my digits but I was too slow,
"What in tha world is going on hia Teniola?" His date stormed into the restaurant with her surprisingly sharp Igbo accent.
I wasn't sure whether to freeze or ask him about the authenticity of his name. Teniola is my dream name, I've always wanted to marry a Teniola but this situation was just too shady for me.
"Beverly I'd be with you shortly, just get back in the car".
"His name is Teniola, he's tall and has a cute voice on top of it" was all I could think about while his date was fuming.
"You're a beech! Aren't you on a date with that dwarf that is calling you baby upandan, and you're here frolicking with my own date!"
At this time, every single person in the restaurant stopped minding their business and started minding ours.
Ricky isn't a dwarf, I thought, he's just short but will be perfect for…., "Oga, please where did you get this beech from," Ricky was out, "she wants to snash my boyfriend and it's all your fault!"
He was wondering why I was suddenly the center of attraction and why a strange dude was standing next to me.
"What the fuck are you talking about?!" he asked with a confused look.
"If you weren't so short, you just might have noticed my date was peeping at your babe and by the way, was someone sharing heights in that bathroom, because you spent an awful amount of time in there!"
I felt that.
She moved towards him and it looked like a David and Goliath scene, except this time, David was frantically confused.
Teniola was bothered about her outburst, so he tried to calm her down but I, on the other hand, was confused and no one hates public arguments as much as myself.
I didn't know what else to do, so I decided to sit, hoping they'd kiss and make up soon. But before I could move a muscle, Ricky punched her in the face and Teniola held him back.
I already told you, Ricky is a crazy guy, what I didn't know was how crazy.
He immediately pushed Teniola against the wall and faced his new found punching bag, who didn't stop hurling abusive words at him.
My hottie wasn't ready to get hurt. So, he got right up and tried to get past the number of men and women that were now trying to make peace between the heavy mouthed Beverly and my crazy Ricky.
Teniola walked past me and then, towards the door.
I felt like he blamed me for everything that happened and was just going to walk out of my life right after he walked into it.
I was still trying to imagine how three months was a total waste, but then, Teniola grabbed my bag and whisked me out of the scene.
Yes! I left without saying goodbye to Ricky, and he didn't call me afterward, probably because he was too embarrassed.
Believe it or not, Me, Myself and My Hottie, Lived Happily Ever After!