Iseoluwa Live In Concert – Website Development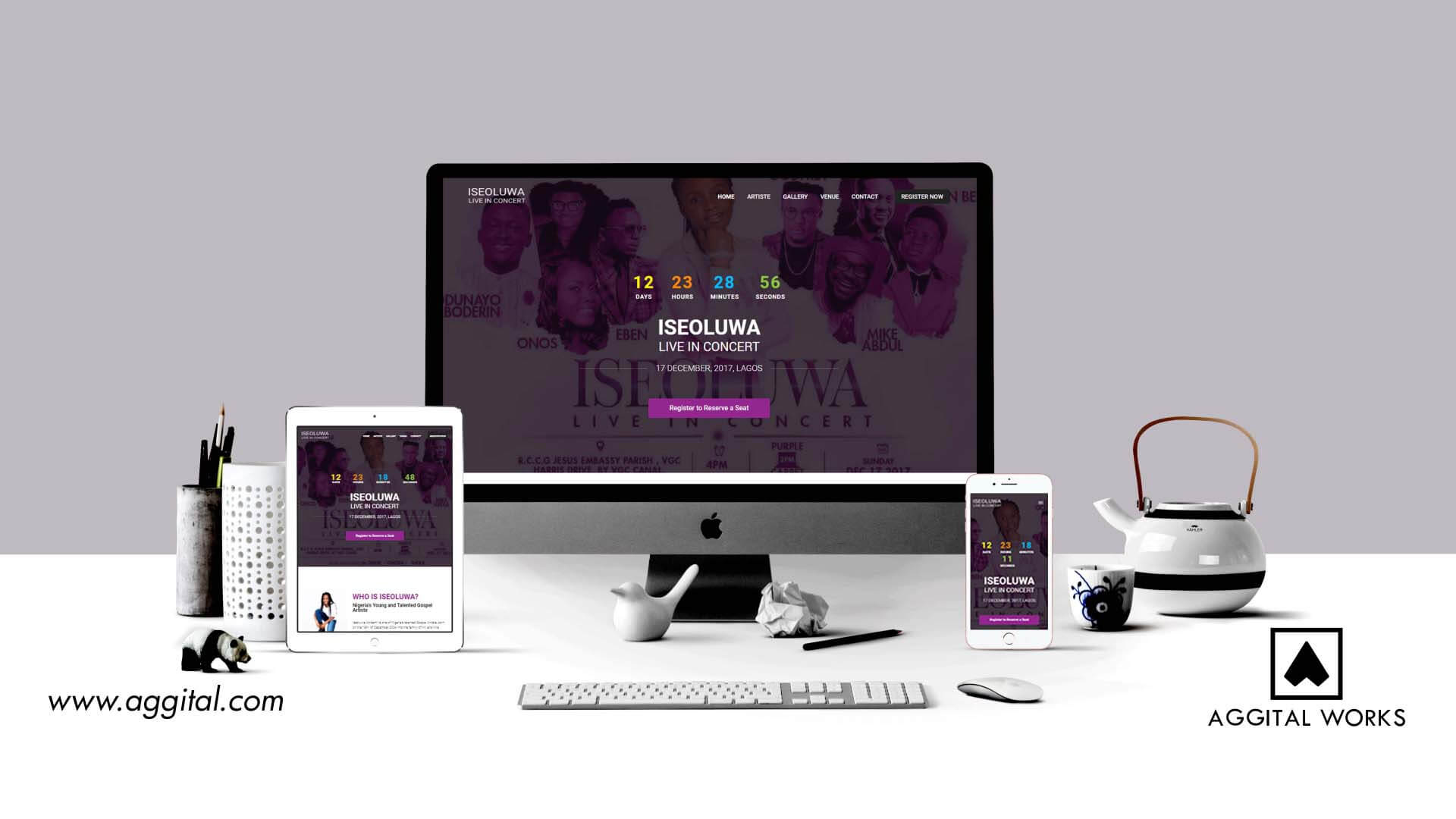 WHO IS ISEOLUWA?
Nigeria's Young and Talented Gospel Artiste
Iseoluwa Abidemi is one of Nigeria's talented Gospel Artiste, born on the 18th  of December 2004 into the family of Mr. and Mrs. Abidemi. She's the first child of four.
She started singing at Age 5 with the motivation and encouragement she received from her mum. Aren't mums just great?
Her first attraction to music was the Channels Television theme song ISEOLUWA, KOLE BAJE O. You should remember, it's not actually sung, we only listen to the tune. I don't think it's still a theme song though, but I remember looking forward to listening to it too.
Later on, she began listening to Asa who happens to be one of her strongest inspiration. We all know Asa is one of the greatest artiste in Africa. Her music genre is unique and you can hardly find someone who rejects her music. I'd be damned if I didn't love her myself.
So as expected, Iseoluwa joined the choir both in church and school.
You won't believe who came through to give Iseoluwa vocal lessons; UNCLE BEN! The same Uncle Ben on the popular MTN Project Fame, that keeps scolding everyone with his thick voice and action film attitude.
Well, that "Thick voice and action film attitude" has produced some great artists in Nigeria today. Now, our pretty Iseoluwa is getting on that train too.
I really don't know why "Uncle" is tied to his name though, but that's now a part of his brand already. If I had just written "Ben", I'm sure you'd be wondering who he is.
ISEOLUWA LIVE IN CONCERT
So, Uncle Ben did a great job on her and she's hosting her first LIVE IN CONCERT! This is the first, but we're definitely getting to attend the event every blessed year.
For the very first ISEOLUWA LIVE IN CONCERT, we'd be having eleven awesome gospel artists. They include Onos, Eben, Uncle Ben, Odunayo Aboderin, Omoba, Diane, Mike Abdul, Shola, Tim Godfrey, Wole Oni, and Tosin Bee.
If you'd be there, pick out something nice to wear on the 16th of December to avoid any lateness on the 17th. You should be on your way to VGC at Lekki by 2 pm (Depending on your location) on the 17th.
Pull up at Harris Drive, by Hayden Filling Station, then drive or walk straight down to RCCG Jesus Embassy. It's a big church, so you wouldn't have any problem finding it.
Just as mentioned earlier, PICK OUT SOMETHING NICE because they'd be a Green carpet and you can't afford to look awkward in your pictures. Follow here if you need more information as regards the address or event in general.
While you're at it, you can also follow Iseoluwa on Facebook, Instagram and Twitter to support the young talent. Also, follow the link to REGISTER NOW!
Actually, we designed the ISEOLUWA LIVE IN CONCERT website and if you follow that link, you'd see just how awesome it looks. This probably sounds like we're feeling ourselves up way too much, but honestly, we really design cool sh*t!
Your Sundays are probably packed full of events, that's why the concert is scheduled for 4 pm. Aggital team would be available on that day and it would be a great pleasure to meet YOU in 13 days time.
WE LOVE YOU!!!