100 Days In London – The Buhari Saga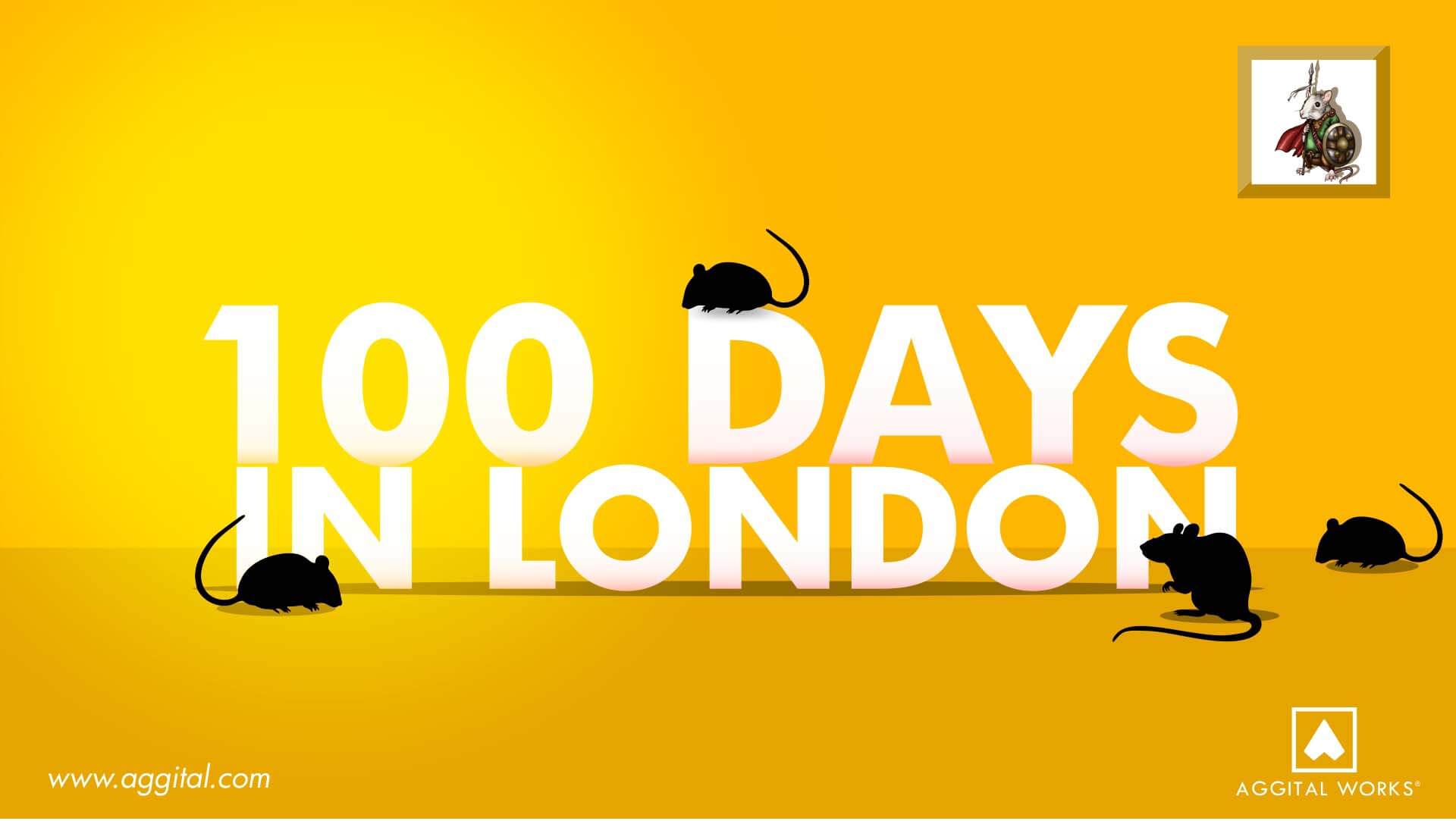 Earlier today, we posted a picture of Lt. Col. Oscar Ibibibo of the Royal Rat Brigade. He has been described by a concerned Nigerian Twitter user as the rat that led the team which evicted Buhari from his office. What a patriotic warrior! Better still, the leader of Boko Haram shape shifted into a rat to attack the Nigeria presidential office.
Of course, we can't just side line the humorous tweets and memes. But before we focus on them, let's discuss the tricks the Nigeria presidential office have played on us in the past week as well as the mockery of the international NEWS channels.
Our respectable president, Muhammadu Buhari traveled earlier in June last year for what the Nigeria presidential office said was a persistent ear infection. There was so much noise regarding his consistent traveling at the time and Nigerians made a joke about Nigeria been the only country where the president rules from another country. We let this slide and they couldn't just help themselves, they had to shock us all over again.
On May 7 this year, he traveled again and this time for a whole 103 days. The funny part is Nigerians are completely clueless as to what his health issue is. Here's how Aljazeera put it "The government of Africa's most populous nation has never said what exactly is ailing the 74-year-old leader". In other words, considering Nigeria being a regional power, we still have to experience very goofy cases like this. So much for a democratic government.
Consequently, the president returned to Nigeria on the 19th of August and to our greatest surprise, there was a weird feeling of euphoria. Considering a number of hate speeches we recorded while the president was away, some people actually believe the crowd was "paid for".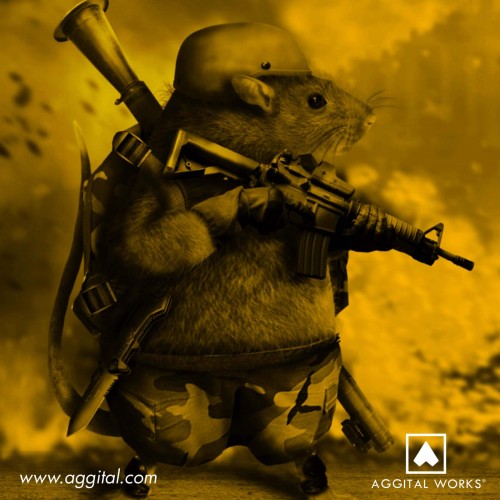 On top of this, his 5 minutes speech sprouted diverse feeling among Nigerians. Everyone expected something more, an explanation, an apology or something strategic to calm the already agitated Nigerians down. People wanted to get some clarity on his mystery illness, but it seems the presidential office wants to keep it a secret forever, which was a great disappointment. Also, Channels Television casted a poll, asking Twitter users if the presidential broadcast met their expectation and over 60% voted NO.
If we wouldn't remember anything else, we can't at least forget the fact that the presidential office is furious at the way Nigerians use social media to air their views. Among others, one angry Nigerian specifically mentioned that the amended 1999 Constitution creates the right to expression, every group has a right to express itself. It could be writing, speaking or whatever expression. However, anything the president saw on any social media platform, is a matter of expression and he shouldn't be bothered about that. This is a democratic government, and democracy accepts criticisms.
According to BBC.com, they have a list of BUHARI'S UNHEALTHY YEAR:
19TH January: Leaves for the UK on "medical vacation"
5th February: Asks parliament to extend medical leave
10th March: Returns home but does not resume work immediately
7th May: Travels to the UK for further treatment
6th June: Buhari's wife says he is "recuperating fast"
We should just add the most recent and annoying one:
22nd August: Militant rat invasion
Furthermore, BBC also explained the situation in pidgin; "Garba Shehu, senior special assistant, SSA on Media mata to President Muhammadu Buhari say rodents don damage di President office and dis na why im dey work from home". "Shehu tell BBC say dis na one of di reason why dem dey clean and renovate the office now". This, to some extent, sounds like mockery.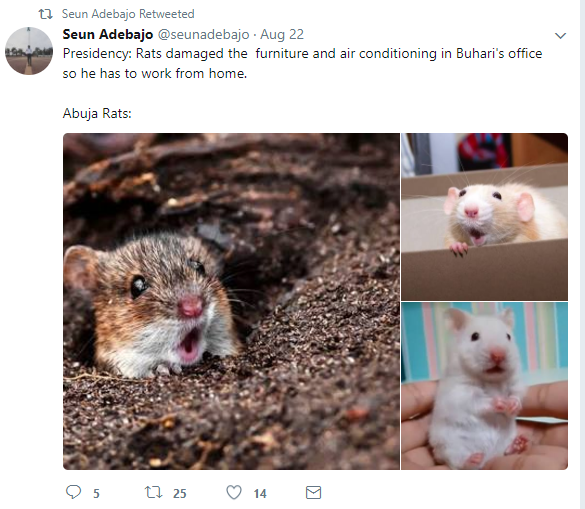 A large amount of Nigerians took to twitter to express their feeling regarding the rat issue. No doubt, Nigeria is filled with a lot of savage individuals that just can't help but express how they feel. A lot of citizens consider it very embarrassing and disgraceful and it actually is. They forgot that the 2017 budget proves that N2M was kept for fumigation services in State House HQTRS. Nigerians never forget!
They do not respect the citizens and consider us fools. Considering Buhari's health, any rational human being would have expected he would work from home till he's very much okay. But lying against some innocent rats is just too low. The presidential office could have just told everyone he wanted to work from home and that would have been it.
Just when you thought you heard the wildest thing, Nigerians will surely top the chart, we can't just help it. Not to even mention the new UTME cut off mark, you can imagine the surprise of ASUU staffs when the president didn't mention anything about their case. Some of us believe the President is awful when it comes to priority.
Anyways, the militant rat infestation case has motivated some humble fumigation experts to bring their market to Twitter. So, in case you got a link to the presidential office, you could help a brother.
It's Friday again, and we have to relieve the work stress. Have fun this weekend and if you want to laugh real deep, just check out some of the tweets as regards the Buhari situation or click here.
HAPPY FRIDAY!!!