The Best Man Speech I Never Gave (Hindsight)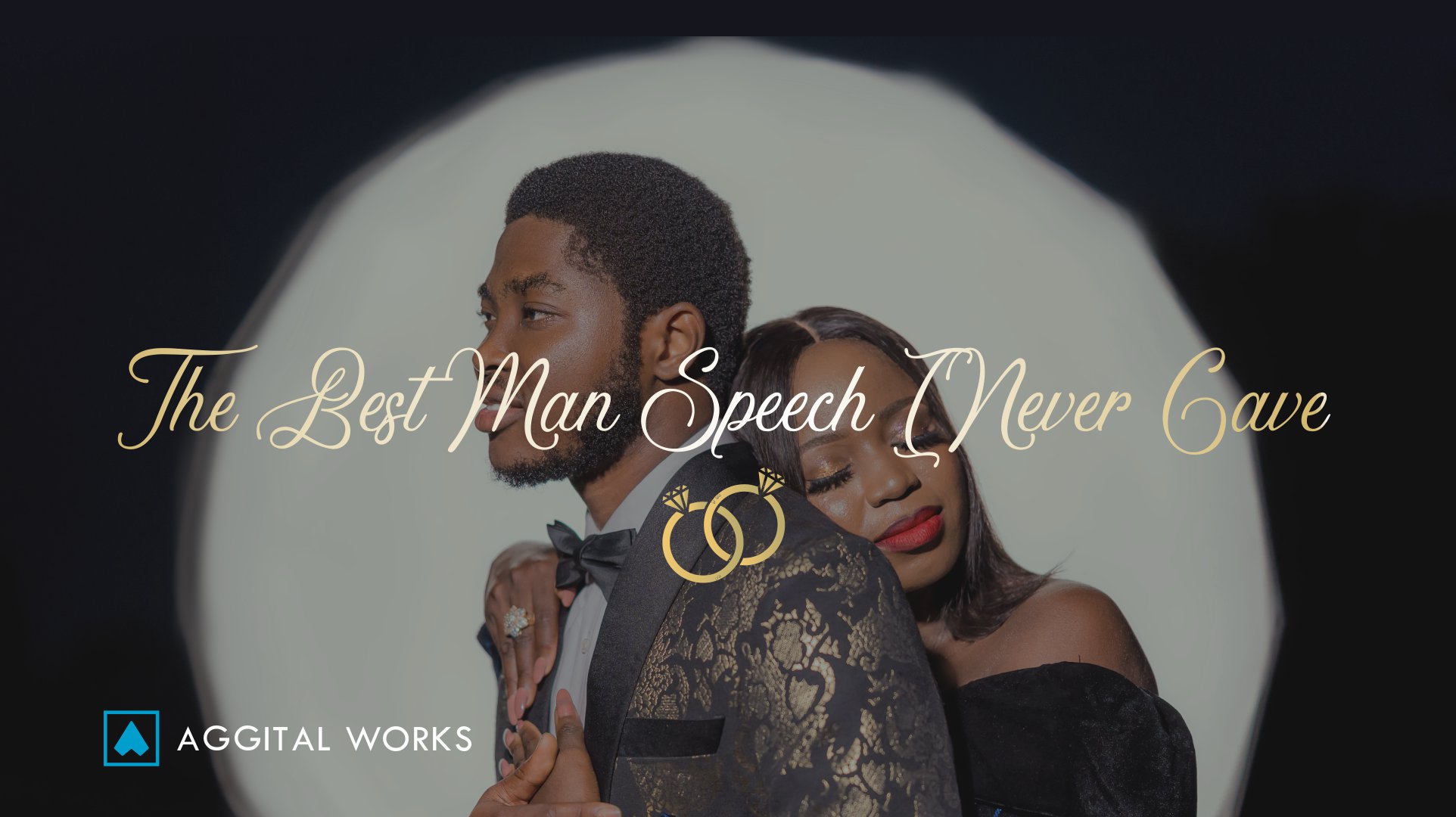 Hello guys, how is it hanging in your neck of the woods, I trust, good! So, the best man speech I never gave (Hindsight) yeah‽
I'm about to take y'all down memory lane for a bit.
So, this was late last year, my brother had his wedding around September, being the only brother he has, I had to, not just be his best man, but double as both his best man and best brother. I'm quite positive you get what I mean. The work was crazy, so much to handle. It was a lot! Well, if you don't gerrit, forget abourrit! 
I'll just skip the other parts of the entire experience and let y'all in on the "best man speech", as that is what this blog post is geared toward. Ergo let's get right to it!
Y'all know as the best man of a wedding occasion, I have to prepare and give a best man speech, yeah‽ The "preparation part", I aced, but the "giving part" was a painful experience. We'll get to that in a bit!
The Speech (Best Man)
Hi everyone… Good afternoon!
I'm not really much of a public speaker, so I'll try to make this concise. Uhm… I heard the first few minutes is always the hardest, so let's crack on with it.
You know, most best man speeches are always about the best man just roasting the groom, making fun of him as much as possible or just try to embarrass him. Believe it or not, I didn't want to do that today.
Uhm… I'd like to say how beautiful most of you look today. I'm glad to see that some of you actually made an effort. But speaking of beauty, our bride Moyo (Now my brother's wife) looks absolutely stunning, and it's clear to see how Zino has become so enchanted by her. But to be perfectly honest, her beauty today is making Zino more handsome than he actually is.
Gentlemen, I'm quite certain, you all will agree with me that today is a sad day for single men as another beauty leaves the available list.
…and ladies, I'm sure you all will agree with me, that today's passed by without much of a ripple. (Joke intended!)
There comes a time in everyone's life, when they meet their one true love, the person who is going to know and love them for the rest of their life. That moment came for Zino when he met me. (Joke intended!)
Uhm, for those of you who don't know me, my name is Iruoghene. I know, that's quite hard to pronounce, but that's fine, just call me Sylvester. I'm today's best man or do I say, best brother. I was gon choose the best brother thingy because it's less competitive. Oh, you didn't catch that!
To be asked by Zino to be his best man is an honour for me but is also very honourable of him because he's finally admitting to each and every one of you that I truly am the best. (Joke intended!)
Zino and Moyo, it's an honour to stand up here today, I can't be more happy for both of you.
Glad to be here this day with family and friends from far and near. I heard most people came from real far places. Uhm… It's amazing how far people will travel for  free meal. Lol… Just kidding! You all look great, thank you for coming!
So uhm, lemme tell you a bit about Zino and I.
Me and Zino, we go way back. We met in the 90s. Some day in July, one of the greatest days in history. The day I was born. Uhm… I don't remember much about that day because I was going through a lot at the time. (Joke intended!) But Zino and I shared an instant connection. We immediately disliked each other… Yh, we both had our fair share of fights over the years!
But I believe that was due to the fact that we both had different personalities. You know, Zino was always loud, abrasive, and obnoxious, but I was calm, self-controlled, and good-looking, and we still are. (Joke intended!)
Well, we were definitely bud of heads growing up, we had a number of funny arguments and fights.
Lemme backtrack a little bit, first off, I thought Zino respected me for the most part because of how much he cared for me and all so I ignored the previous connection… I didn't know what was coming.
Within a few short years, however, our brotherly rivalry intensified and Zino was already bigger than I am. So you all probably understand how our fight went down.
During secondary school, knowing I didn't know the exact amount we were being given as pocket money, he'll always take a percentage from mine and I never knew. I thought he was being fair actually…
I no know say bruv dey chop my eye!
That went on for months until I finally caught wind as to it. Thanks to my sister, Kome. And I want to use this avenue to honour my sister. That's her sitting right there, she's the most bright, loving, intelligent, and affectionate of all three of us. I love you sis!
So, back to me and Zino. However, I had my ways of getting back at him, one of which was football. I always delayed the gratification of my anger most times we had an argument and unleashed it every time we get to play football. I really disgraced him on the pitch, like I really made a mess of him, and I totally loved every second of it! Lol… Well, we fought hard and still do today, in a mature way though, but that's because we love harder.
So that's just a minuscule part of our fights. Believe it or not! Well, I think you get the point.
Yh, so again, I want to use this avenue to honour my parents as well for their endurance, wisdom, altruistic traits, and fortitude to raise us. I love you mom and dad!
Yh, so back to me and Zino. We did have our good times as well. We will play video games; PlayStation and all.
Uhm… Speaking about good times, I wrote this a while ago, I'd like to read it.
So, just because of how exceptionally mystical and African our bond for each other is, we hardly have time to delve into emotional conversations and express the love feels… So it's an opportunity for me today!
This day is quite special to me because it's about someone I love and honour, Zino. You are a great gem, no doubt! Your wisdom, courage and tremendous intrinsic traits inspire me a whole lot, you are such a great mentor, a seed with a great tree trapped inherently that has unique fruits to offer the globe. You just got started! Trust me, you are so graced that what you have achieved and done for you, the body of CHRIST and the universe at large is just a step out of the cave!
You aren't just a brother biologically or by title, you live the entirety as to the essence of the word and acronym 'BROTHER', – B: Brilliance | R: Respect | O: Outstanding | T: Terrific | H: Honest | E: Entertaining | R: Remarkable.
A great man, Ann Hood said, 'A sibling is a lens through which you see your childhood'. So true! Today I found old memories alive again and enjoyed reminiscing on our childhood. I know the warmth of those innocent days are innate, and will always remain.
The beauty of genuine brotherhood and peace is more precious than diamonds, silver or gold.
That's a profound quote from Martin Luther King Jr.
I'm proud of you bro!
Uhm… So, let's talk about Moyo…
Moyo ever since we met you, we knew you are a keeper, you are beautiful inside and out, kind, compassionate, genuine, smart, caring, and most of all, you make Zino happy in a way that I never could. Moyo, or should I say Mo, welcome to the family. There are many Moyos but there's only one "Mo", "Talking Mo". For those of you who don't know, she's a journalist and a compere. An exquisite one actually.
Uhm… Zino and Moyo, seeing you two is seeing two hearts breathe as one. I wish you all the best in your life together, I love you both.
So, without further ado, Love is a force more impressive than any other, because it is invisible, it cannot be seen but it can transform you in a moment and offer you more happiness than any material possession ever could.
Now ladies and gentlemen, if you will, join me in raising your glasses, to Zino and Moyo, a lifetime of love, unity, and happiness. GOD bless you!! Congratulations!
So uhm, the giving and the painful experience part yeah‽
This is it, all of the speech happened in my head and the farthest it got was the paper I printed it into from my computer.
I didn't get to give the speech at the wedding occasion. This was because of the backlog of activities on that day, considering time, plus the fact that the young folks around wanted the after-party thingy so bad that the MC had to skip a few items to accommodate that! I'm quite introverted, however, the wedding ceremony was fun.
If you've got some thoughts as to this, do drop them in the comment section below. We'd love to read all of them.
Also, if you are looking to get an excellent web design company, you are absolutely in the right place. Do click on here to contact us. We look forward to working with you.
For more reads, click on here!