Still In The Season Of Love – Here's A Perfect Love Story!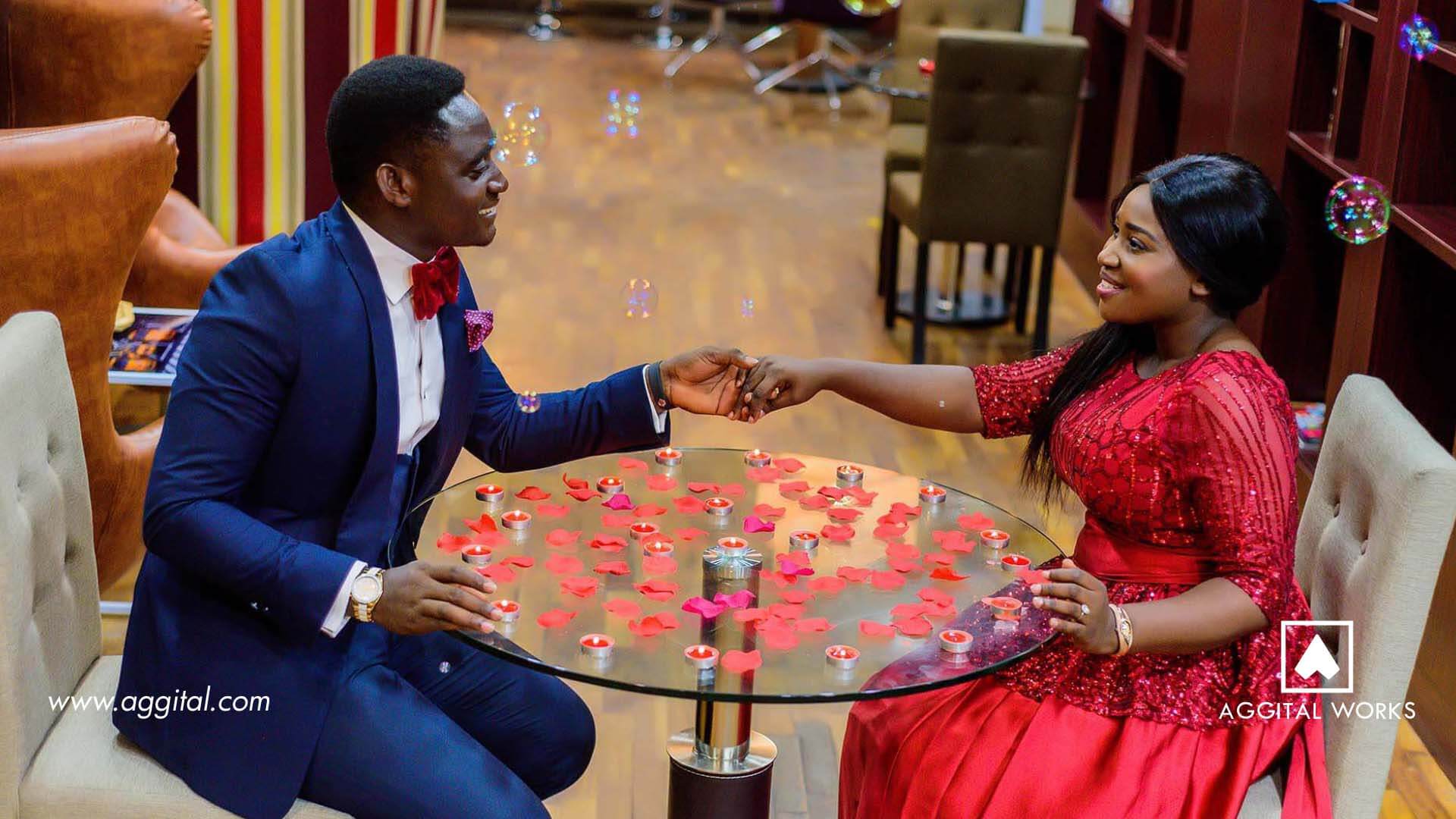 Have you ever come across a wedding website? Well, we designed one last year December for Life Akindoyin and Oluwafemi Oyewunmi; it was designed for the invitees and to also showcase pictures of the pre & post wedding photos, Bridesmaids, Groomsmen, and MIA (Men In Agbada).
Valentine was just two days ago and Lagos was totally jammed in the name of love. We can still feel the fire that comes with the feeling, so we decided to showcase the beautiful story of a couple, who decided to commit to a lifetime together.
Here's the Proposal Story:
How we decided that we should be together forever!

It was her birthday and I asked if I could take her on a date for dinner. She answered in the affirmative. I secretly invited her sisters and few close friends to the dinner. She was so surprised to see everyone.

Fast forward, everyone was allowed to give a speech and when it was my turn, I looked at her and said you're the best thing that happened to me after giving my life to Christ. You're my best friend and why don't you spend the rest of your life with me.
Then I popped the question

Ohunerimitodaju please will you marry me?

She was confused at first and ran away but slowly returned to me

TO ACCEPT THE RING

AND SAID A LOUD "YES!"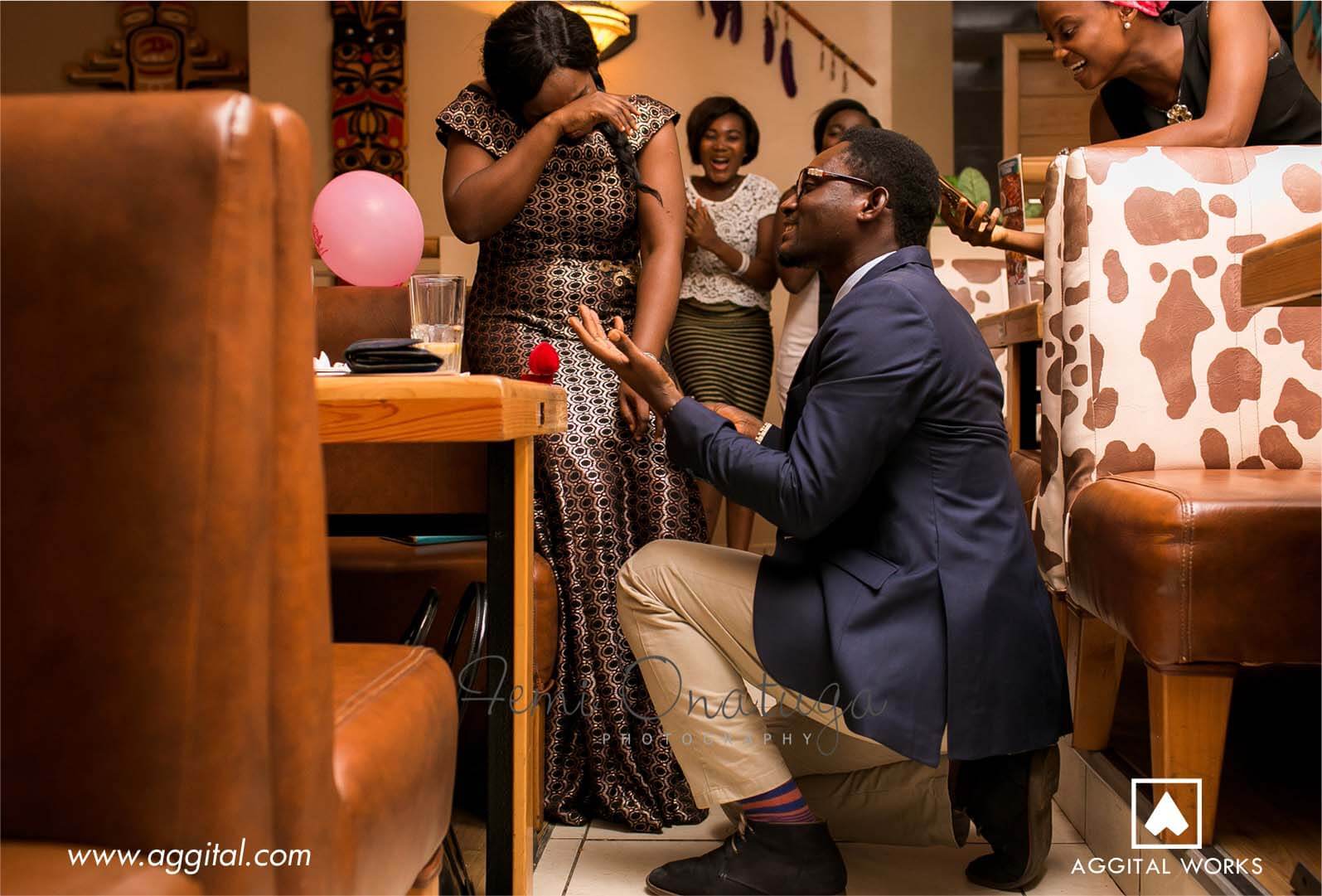 I can only imagine how awesome that moment was, Life must have felt the highest degree of joy when she set her eyes on the ring. Of course, this was what she always wanted, but she couldn't help but feel slightly shocked.
Sometimes, we don't actually believe that moment, that moment our dreams finally manifest, we go crazy  and we're like "How on earth could this ever happen to me!"
Life never expected it, she was looking forward to a Red Velvet cake and a chilled glass of Red Wine. As God would have it, Femi put a ring on it instead.
I must warn you, Her Story is quite lengthy:
I'm so thrilled to be sharing our beautiful love story, it's a long one but I'll endeavour to make it as brief as I can.

I crossed paths with my Sweetheart for the first time during the RCCG annual convention 2012 My friend (Ife Akeju) and I were assigned to assist the leaders at the Junior church Auditorium at Redemption Camp. He walked pass and didn't even notice me but I saw him and felt this calmness within me that lasted for minutes while I was seated.

I suddenly regained my composure and I quizzed myself? Life was that you? Yeah I know I usually prove strong lady Lol. I said never. A guy is supposed to be the one liking me and not the other way round. Who is this guy sef?

He was so caught up in the activities and I eventually didn't get to see him that day again. The next day I saw him and felt same thing and I told my friend that I wasn't going there anymore. She teased me saying Life has finally found Love o. I playfully knocked her off but then she said seriously can we pray about him?
I was taken aback, I said Pray ke? In how many days? This guy didn't even see me. Moreso he was even looking rough bcos of the environment so I said no jare he is not "The One".

On Saturday of the Convention, my friend and I moved to the gathering of the Pastors Seeds at the Youth Centre.

Please Note; we were not moving up and down looking for Men oh. We only attend programs.

So back to my story, on getting to the Youth centre, I saw him but this time around, we met through one of my Baby Sisters, Peace (Hehehe my honourable CBM, now grown) and my adopted Brother, Tobi Aniyi (Lol).

They both dragged Oluwafemi to me and said meet our dearest Sister. Oluwafemi shook my hand and said Wow so pretty. You all smile alike in your family. I smiled and said thank you.

They both winked and left us. Still holding my hand, he said he functions with the Protocol Dept and can he introduce me to his team?
In my mind I was like Chai he don see fine girl o. Lol.
On getting there, I realized I knew everyone there one way or the other. It's a big body of Christ.

Fast forward;

I went for my youth service October 2012 few days after my Convocation. At the Orientation camp, during the Career talk, we had PWC (Pricewaterhousecoopers) staff who were called on to speak with us. Lo and behold, it was Oluwafemi. I was so excited. The little me ran to go and meet him and he was like wooow how are you? I didn't know I will find you easily. More so i didnt have your number.
He introduced me to his colleagues as a friend from PSF (Pastors Seeds Family) and brought out a nylon of snacks. I was shy and I think I told him I was fasting or something like that. Lol.

I eventually collected it but I didn't eat it right away.

We got talking and found out so many things about each other that day. I got to know that he has 3 younger Sisters, so little wonder he cared for me like his younger Sister. He even gave me some pocket money before leaving.

Then I started to pray. From our conversation, he was really sounding like "HIM". Born again, focused, caring amongst other amazing traits. Of course I pray daily for my future, home, career and everything so I just asked God to take over and make it work in his own divine way.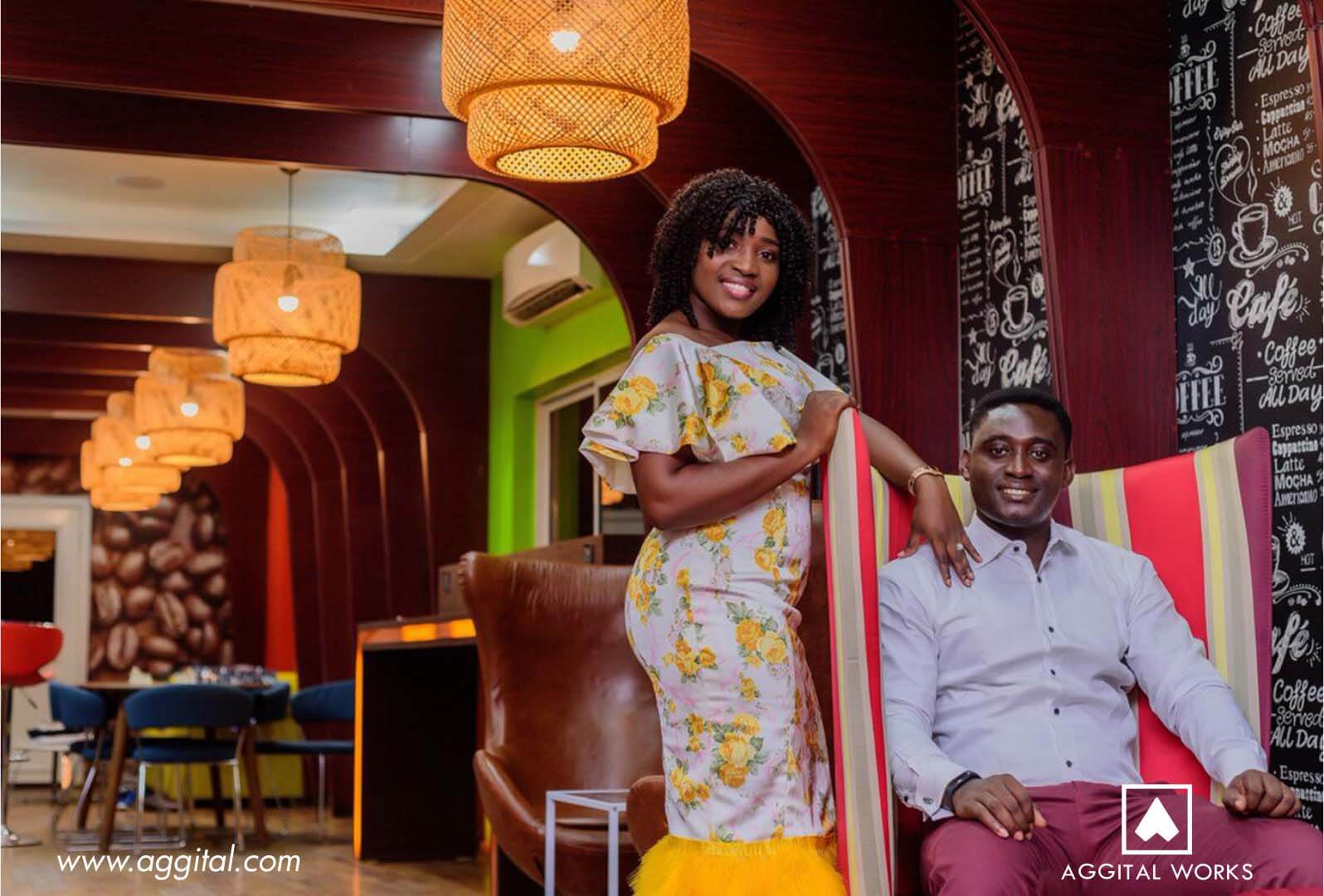 Fast forward x 2.

So we kept communicating through various medium and we see frequently during our monthly Holy Ghost Service.

He started calling EVERYDAY and I never got tired of hearing him.
We got closer, meeting my family and friends and vice versa. I never stopped praying and the love was growing. It was like a father rubbing my back calmly saying well done my daughter I'm with you. That was kind of the Peace I had from the moment our friendship started unfolding.

And then one day, hmmm one day, on his birthday actually, so at midnight after wishing him and praying with him, he asked if I could celebrate his day with him by taking me out. That was unforeseen. I haven't gone out before and I saw it as a "date" which I felt was for people in relationship. So I declined. I noticed he wasn't happy but then he said it was fine.

Over the night i had a taught on it so i called him to accept his invitation. I could tell he was happy. I dressed up and we met around 10am.

………………………………… "I want to spend the rest of my life with you. I have never been in love as much as this. I'm not rushing you, I just want you to know my mind. I see where God is taking me to and I want to know if you will support me, walk with me. I'm ready to love you and yours extremely, we can grow together and I will also support you in everything". He said softly.

All was new to me and I replied, you are my very first and I really don't know how a relationship goes but I will definitely give my best. So help me God. He kept saying thank you thank you thank you. He was in high spirits.

He pulled me closer and placed my head on his shoulders and kept saying thank you Jesus. Oluwa ese. Jesu ese.

I looked up and told him can we be friends for now? He said no problem he can wait for as long as I want until I'm ready. And that was how the friendship started that led us to where we are today.

I bless God all the way and I have no regrets as to how it all turned out.
Oluwafemi, you are sweet. Love is genuine with you. Thank you for proving that good men do exist. I know that together we will bring out the best in each other. I will not lead you astray.

I'm always proud of you. And you are the best of the best. You call me your safe place and that gives me joy. Your Faith in God is second to none. I really love that. My delight, my dream come true, I will follow and support you wherever God calls you to.

Your dearest,
Iyeteminikan.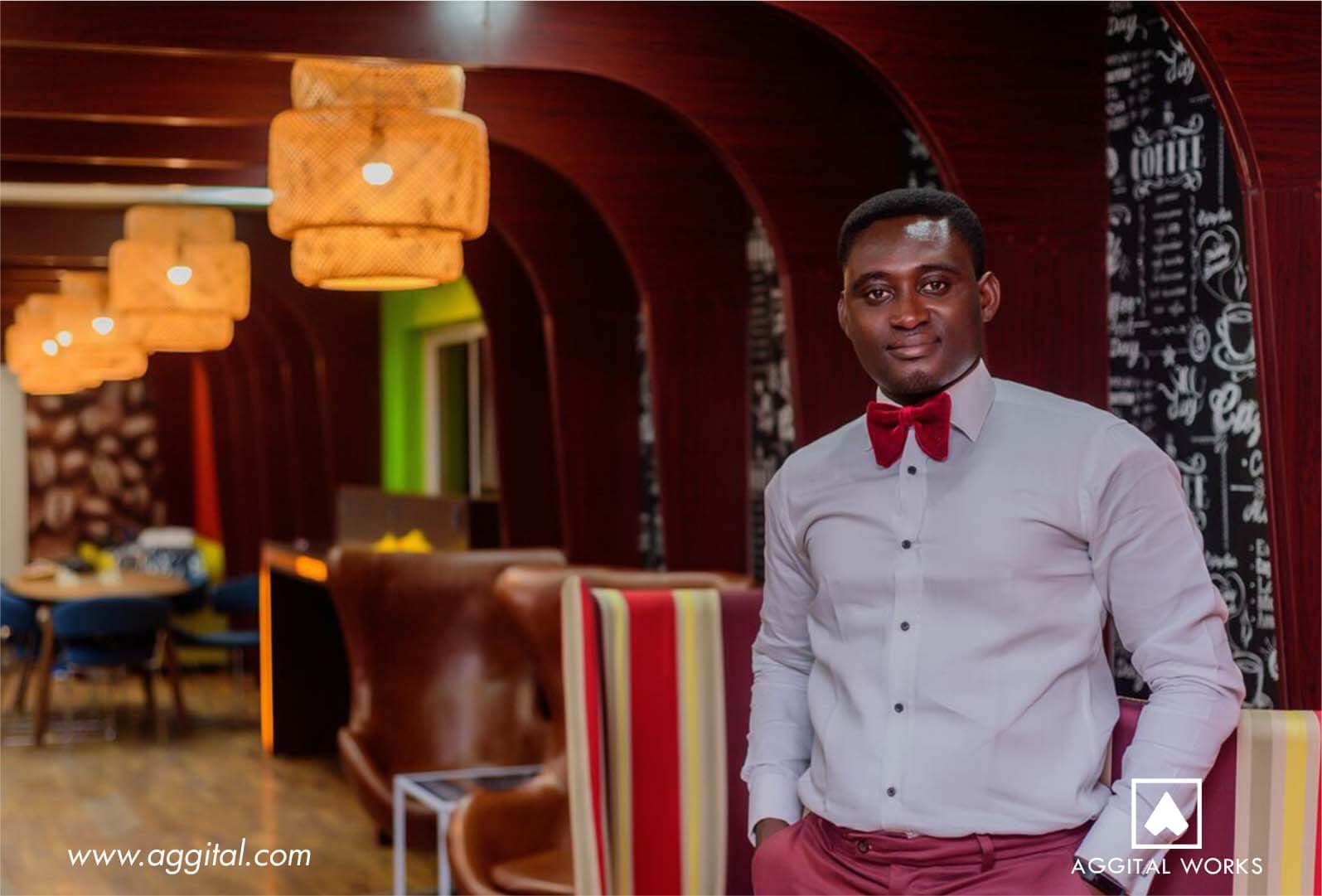 Phew! That was a long read but it was worth the time though.
Here's His Story:
We met at the place of service.

It was our usual Annual August Convention that year, I was at duty post in Junior Church auditorium coordinating the programme. We received news that Mummy G.O has instructed all Pastor's Seed Family to report in the Junior Church to assist the teachers. PSF members were divided into different teams and Life Akindoyin was part of the programme team. We worked together with no special introduction or attachment. In fact, I did not notice her as I was busy coordinating. On the Saturday of the Convention, we all gathered at the Youth Centre for PSF meeting where her sister (Peace Akindoyin) introduced me to her who I met through Oluwatobiloba Aniyi.

We became good friends. We chatted about ourselves and the family. We all separated after the Convention. I did not bother getting her number, I only felt we can always catch up in camp when we come for our monthly Holy Ghost service meetings. I remembered on the 21st October 2012, I received a friend request on Facebook at 00:00 GMT I was working on my computer. I decided to do a background check as usual. Then, I saw her charming face. I added her of course and sent a direct message (slide into her DM). I wrote you're welcome here and she replied. The chat lasted for about 4 hours and the rest is history.

How we got here. 

I never knew camp baby like I usually call her, would end up as the love of my life. My attention was on someone else until I decided to consult God. I had my struggles but when I received the clear instruction on her, everything changed. She was consistent in our friendship, she stood out of others even with her simple innocent smile. She's adorable, spiritual depth, appealing, enchanting, engaging, intelligent, selfless, caring, and most importantly for me, she's best at nurturing my vision. She's my number one fan, encourager, developer, cultivator, and believer.

We've had enjoyable and difficult times yet standing strong together. People say love is blind but I can see clearly the Godly virtues in her character, she was tested and trusted. I can go all the way for her even with my last breath. She completes me. The future can only get better and with JESUS as our foundation, the sky is only the beginning of our journey.

I can't keep calm!

I'm getting married to the woman that lights up my world!!

I have truly found favor in the sight of God!!!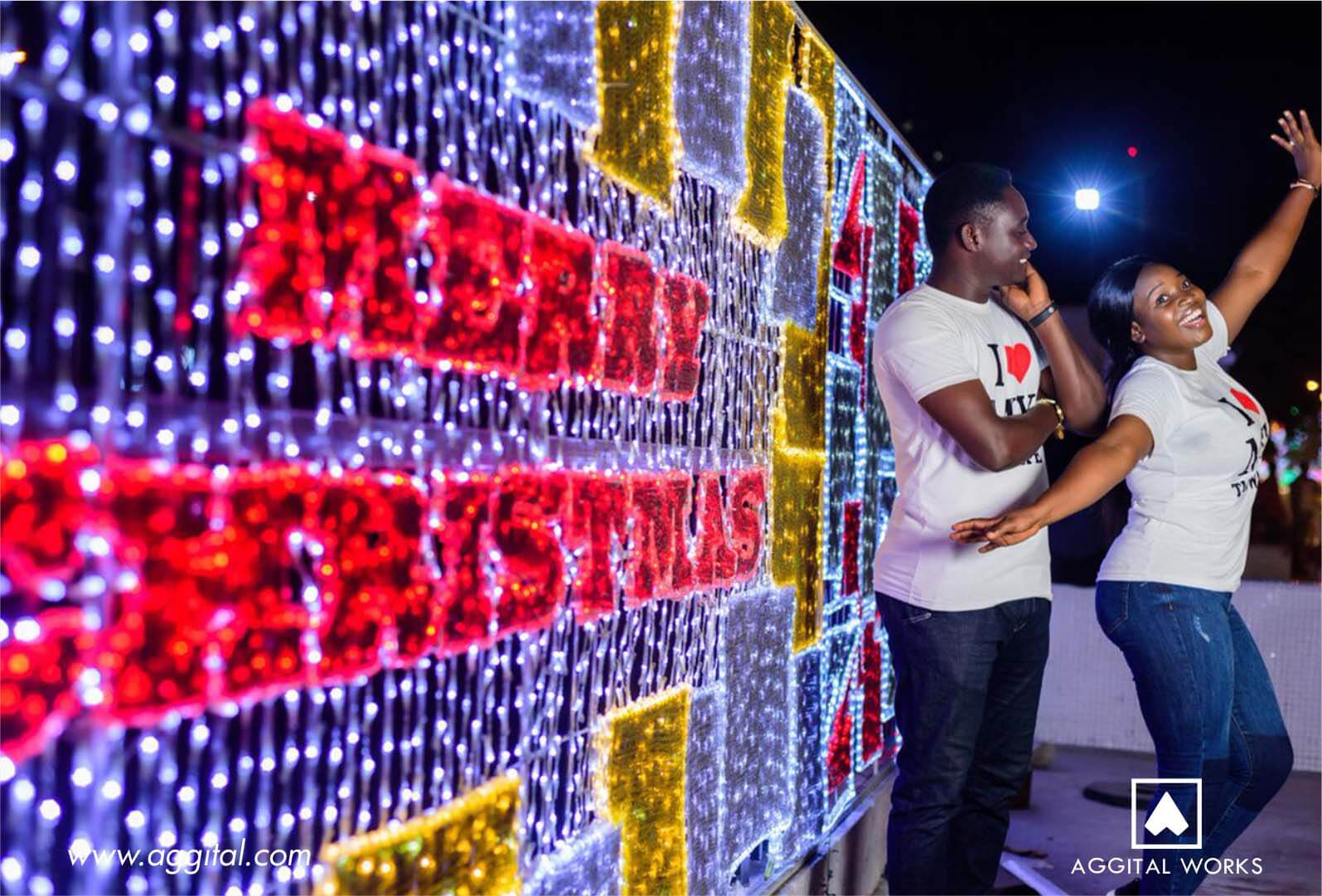 Just as Christine Hale said "If only something does work. If only some genuine connection can be found, some path, some portal, by which to become neighbors, lovers, earnest human friends", Life and Femi obviously found that portal.
Go Find Yours!