The Actual Cause Chris Rock Got Smacked by Will Smith at the Oscars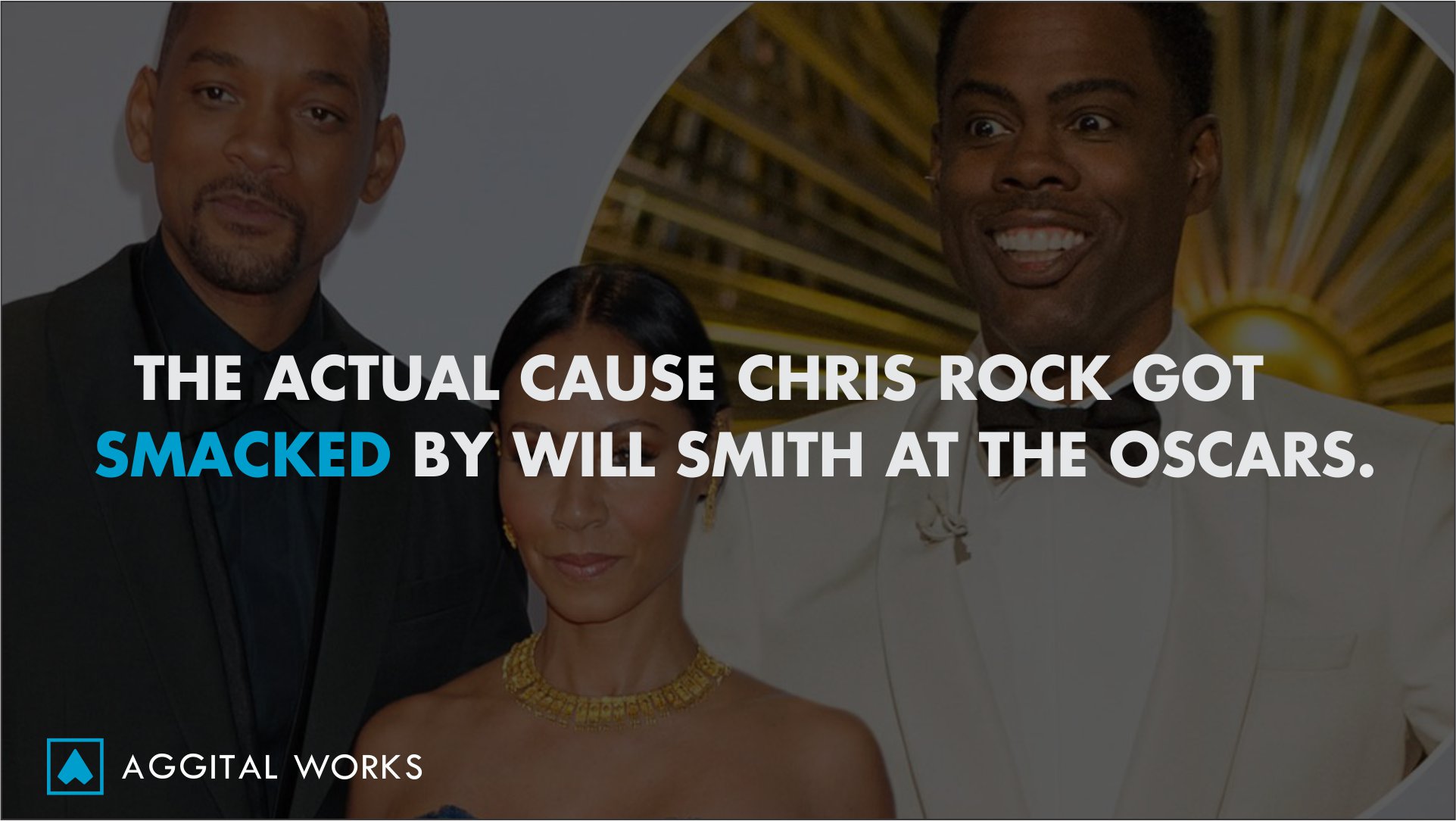 Hello guys, I trust y'all are doing great. Today's article is about the recent occurrence at the Oscars, and yeah, we are taking it a notch further, it is about the actual cause Chris Rock got smacked by Will Smith on Sunday, 27th March. It was absolutely a surprising, embarrassing and awkward moment for Chris. It was quite an ugly one, Yeah, I get it, Will was mad, however, Will didn't hit Chris just because he was mad. If  Will didn't hit Chris because he was mad, what could have been the rationale for such you may ask. Well, the answer is quite simple, read through as we get right into it. It's a short read. Enjoy!
Will Hits Chris (Actual Rationale)
For the benefit of y'all who haven't seen the clip, or the entire video of the event, I'll oblige you! I'll just quickly walk y'all through the occurrence.
So Chris was up stage presenting, as well as doing his thing, and as the comedian that he is, he made a tasteless/controversial "GI Jane" joke about Jada Pinkett Smith, who is Will's wife that alludes to Jada's shaved hair. Jada currently suffers from alopecia, (a condition that causes hair loss). Everybody laughs at the joke, Will Smith inclusive, although Jada rolled her eyes with a fairly straight face… The next minute, Will walks up stage and slaps Chris (now those of you who have seen the video will agree with me that the slap executed by will was quite an intense one),  after which he walks back to his seat. He sits and yells at Chris, "keep my wife's name out of your f*ing mouth". He yelled that twice. Prior to Will retreating, as he was walking back to sit, Chris said out loud, "Will just smacked the sh*t out of me" in a fairly comical manner. This was on camera, right before the live segment was muted.
There you have it! Click on here to see the clip!
Attestations of Insiders Regarding Will and Chris
Some persons at the venue of the event attested regarding the incident. Let's look at some of the attestations:
"It was a slap seen around the world, but no one at the Dolby Theatre thought Will Smith actually meant to hit Chris Rock for making a joke about his wife at the Oscars, until Rock said out loud, "Will Smith just smacked the sh*t out of me."
"Though ABC chiefs cut the sound when Smith ran on stage, the audience could clearly hear Smith shouting after he returned to his seat, "Keep my wife's name out of your f*ing mouth!"
"We thought it was a bit," said one Hollywood insider. "Then we heard Will yelling. You heard it so loudly in the theatre."
Another Hollywood insider attested, affirming how she watched the chaos from the green room. "Suddenly everyone froze and the whole place was, like, what the f*k happened?" The insider spoke about how Will's longtime publicist – Meredith O'Sullivan Wasson, Academy CEO – Dawn Hudson, Oscars producer – Will Packer and Academy president – David Rubin then walked into a private room "very quickly with great seriousness."
There was a sense that something was wrong with Will," said the insider. "I heard Chris' manager, Jason Weinberg, say, 'I've got to deal with the LAPD now. I have to find out what is going on,' then he walked out".
"Everybody was saying, 'Holy sh*t.' Even the bartenders. The gravitas was not lost on anyone. There were people saying, 'Oh, my God, poor Chris.' People were wondering if Chris' face was red because he was flush or because he was hit".
Photos right after the slap show Chris up stage talking to a seated Smith as though trying to make peace, but a source who knows the comedian said he wasn't attempting an apology. Rather, he was saying, "Whoa, whoa, okay! I hear you. I'm just here to give out the Oscar," the source said. "How does that read as an apology?" the source added. "He was the one who was assaulted live. The fact that the guy continued to be so cool after this assault, he deserves an Oscar." Now that's some opinion right there!
"When he got off stage, he was a bit shaken. He was taken into a side room and talked to producers and LAPD. Then he went to the writers' room and spoke to his guys and left. I mean, these are guys he has worked with for years. No one thought there were any issues with the jokes", an insider said.
"If anything, Regina Hall's joke about Will and Jada earlier in the evening, which hinted at their open marriage, was in a way worse taste," the source mentioned while adding that Chris did not have even a mark on his face from the slap.
During this awards season, Will and Jada have repeatedly been the butt of jokes about their marital status, and some have speculated that Chris' barb — "Jada, love you, 'G.I. Jane 2,' can't wait to see it," referring to her bald head — might have been the last straw. Will and Jada have heard a million jokes about them in the last three decades. They're not freshmen in the world of Hollywood and comedy. He lost his mind." Judd Apatow suggested in a tweet.
The Wall Street Journal reported that Chris' joke wasn't on the teleprompter, niether was it practised in rehearsal. Meanwhile, Chris reportedly did not know that Jada suffers from alopecia.
"After the slap, LAPD officers asked Chris if he wanted to press charges against Will, Chris said no and left soon after. I was stunned and shook." said the source.
Back in the theatre, it was Will's great mentor and now fellow Oscar winner, Denzel Washington who came over to his table first to offer words of wisdom. As Will revealed in his acceptance speech for Best Actor later that evening: "Denzel said to me a few moments ago, he said, 'At your highest moment, be careful, that's when the devil comes for you."
During the commercial breaks, movie mogul Tyler Perry and actor Bradley Cooper also tried to calm Will down. Fellow nominee Nicole Kidman was seen giving Will a hug.
"He was wiping his eyes of tears, he knew it was not good," said Hollywood Reporter awards columnist Scott Feinberg on Matt Belloni's podcast, "The Town," about Will in the aftermath.
Meanwhile, it was clear that Will would not be leaving the ceremony. "Everybody started to realize 'Oh my God, he's going to get back up there,' they did not escort him out," said Matt Belloni, the former editor of the Hollywood Reporter, on the podcast.
Music magnate Diddy attempted to smooth things over on stage as he appeared to introduce a 50th-anniversary tribute to "The Godfather."
"Okay, Will and Chris, we're going to solve that like family at the Gold Party, okay?" referring to the Oscars afterparty hosted by Jay-Z and Beyoncé. "But right now we are moving on with love. Everybody make some noise!".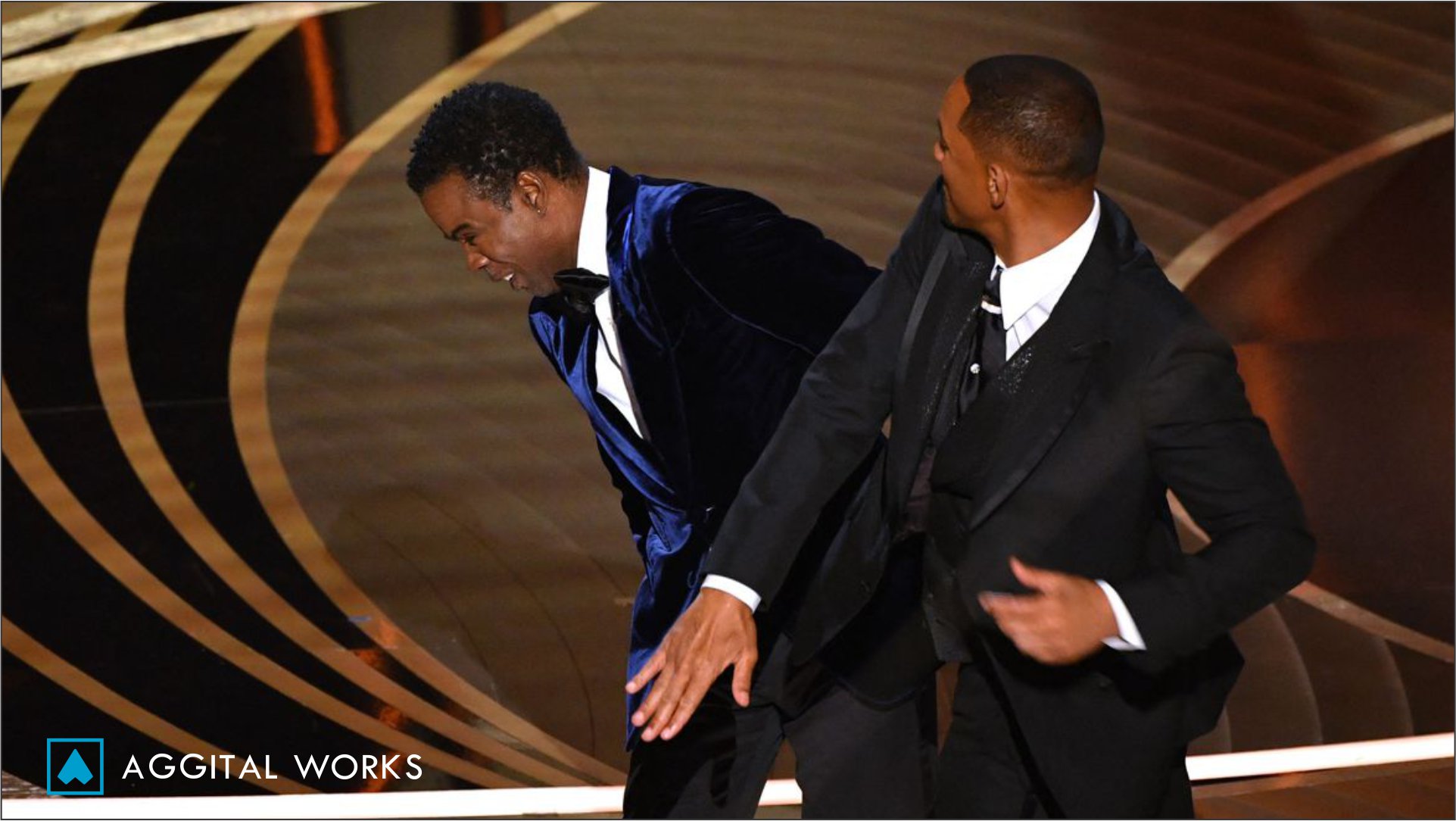 The Actual Cause Chris got Smacked by Will
We are finally down to the actual reason Will smacked Chris. I know y'all been itching for this. Here it is – First off, I'd like to give a disclaimer; this wasn't reported or affirmed by any of the celebrities involved. This was simply deduced from how the event played out, and as such is a speculation.
The actual cause Will Smacked Chris is the fact that he could do it and get away with it, just like any married man abusing his wife won't if he knows he won't get away with it. Yeah, Will Smith got emotional and affected by the snide comment made by Chris, that was his wife being ridiculed, I get that! However, if that comment was made by someone who could defend himself against Will Smith, he would not have gone up stage to slap such a person. Let's take for example, Dwayne Johnson/The Rock or Paul Michael Levesque/Triple H did what Chris did, Will woulda controlled himself and deviced another way of getting his message across, he would not have resorted to violence.
What Chris did was totally wrong, however, Will was reactive in that situation, as opposed to being proactive. There's no excuse for violence and as such, Will's act cannot be justified. What Will did was condescending, retrograde, and absolutely out of character. I'm already getting talkative, this ain't about my opinion. So there you have it. The actual reason the slap happened was because Will Smith could execute it and get away with it.
Post-Slap Happenings
After the incident, quite a lot of things have been going on. Let's see them for a bit.
The day after the event, Will posted a public apology on Instagram. It read thus;
"Violence in all of its forms is poisonous and destructive. My behavior at last night's Academy Awards was unacceptable and inexcusable. Jokes at my expense are a part of the job, but a joke about Jada's medical condition was too much for me to bear and I reacted emotionally.
I would like to publicly apologize to you, Chris. I was out of line and I was wrong. I am embarrassed and my actions were not indicative of the man I want to be. There is no place for violence in a world of love and kindness.
I would also like to apologize to the Academy, the producers of the show, all the attendees and everyone watching around the world. I would like to apologize to the Williams Family and my King Richard Family. I deeply regret that my behavior has stained what has been an otherwise gorgeous journey for all of us.
I am a work in progress.
Sincerely,
Will"
Tony Rock who is siblings with Chris spurns Will's apology. Here's how he did.
On Tuesday night, Tony, who is also a comedian, responded on Twitter to several questions about the incident.
"Do you approve of the apology?" a Twitter user asked Tony.
"No", he replied.

Tony as well wrote that both celebrities are yet to make up, despite contrary reports, after which he retweeted another comment eulogizing his brother.

"@TONYROCK Let Bro know he's a better man than people give him credit for. As bad as the situation was, it could have gone completely sideways if he hadn't been the adult in the room," @RealBigSol posted and Tony Rock retweeted with a peace sign emoji." Click on here to see the post. 

Will's mom, Caroline Bright also chewed the rag after the altercation. She said,

"He is a very even, people person," she told ABC affiliate WPVI of Philadelphia. "That's the first time I've ever seen him go off. First time in his lifetime… I've never seen him do that." She added that despite the incident, she was still proud of him being him and winning best actor for his leading role in the movie, King Richard.

"I know how he works, how hard he works…I've been waiting and waiting and waiting," Carolyn Smith told WPVI. "When I heard the name, I was just, Yes!"

Richard Williams (the man Will portrayed in the movie, King Richard), Venus and Serena Williams also spoke out on the incident on Monday night. "We don't know all the details of what happened", Richard Williams, through his son, told NBC News. "But we don't condone anyone hitting anyone else unless it's in self-defence."
That's it for today guys! Do let us know your thoughts in the comment section underneath. Shout out to Bigdan McDon, I got some ideas from his podcast on this. You definitely should go check it out. Just type "bigDan's Unscripted Podcast" in the search box and his stuff is gon pop up!
Anyway, if you are looking to get an excellent web design company, do click on here!
For more reads, click on here!